Hannah Mathieson
Excellent Pass
I was a really nervous learner but Richard was really good and helped me to learn one step at a time. The LDC workbook was helpful too, especially all the diagrams which can really help with visualising manoeuvres before you start them. My confidence really grew while learning and I was able to pass first time without any minors! I would definitely recommend Richard to anyone looking to learn to drive, especially if you're nervous!
Jonathan Hollick
1st Time Pass
Excellent service all round. Was really able to figure out and understand my driving style and how my mind worked which meant I got a lot more out of each lesson. I had started learning to drive years ago but had a poor experience and it put me off. But Richard really helped to build confidence quickly. Would thoroughly recommend to anyone who's looking to learn. The fact I managed to pass first time is a boost!
Chloe McAllister
Passed 1st Time
The LDC book was a very organised system of learning. By reading through the workbook it helped me a lot by providing step-by-step instructions and the added diagrams made it easier to visualise and use when driving. Richard was a very patient instructor who built my confidence right up and gave very knowledgeable explanations to any questions I had. He also provided visual examples in the form of drawings which really helped my learning. He was very kind and supportive, as I started a very nervous driver and now feel extremely confident on the road driving by myself. I highly recommend LDC and especially Richard.
Che Mayol
First time pass
I felt the LDC workbook was a big help in my progression. It allowed me to keep track of the skills we were working on, as well as prepare for the next lesson. Richard was a great instructor. He was very patient with me, especially on days where I didn't feel confident in driving. Everytime we were out for a lesson, the atmosphere in the car was very relaxed. I received plenty support from Richard all through out my learning experience, especially on the approach of my practical test. If you're looking for a friendly and patient instructor who is very knowledgeable when it comes to cars, driving and trash tv. Richard is definitely the guy! PS. Richard often said he always prepares his students with real life everyday driving. I didn't understand how it could be so different to driving with an instructor until I heard stories from friends that once they passed their test they were very nervous going out in the car on their own. However, upon passing my test and informing my insurance provider, I was very excited and confident to drive my own car on my own.
Lean Lik NG
Passed 1st time
In general, the LDC materials (DVD's & Workbook) are fantastic as they provide easy to follow, step-by-step guides with vivid instructions. Really appreciate having Richard as my instructor. Love his clear explanations utilising various methods like pictures. Richard was very approachable and motivated to ensure I was the best I could be before the test. Would definitely recommend LDC as well as Richard.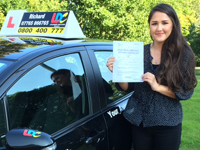 Jennifer Richardson
5 star Pass
LDC provides you with a structured program and an in-depth step-by-step guide through all the different areas of driving. The program ensured that I had the necessary set of skills in order to tackle certain manoeuvres with confidence before carrying on to more difficult areas. Various resources are provided and a lot of work needs to be put into completing the materials/program (ie. Workbook), however it definitely helped me feel more prepared and I quickly gained more confidence in driving despite initially being quite nervous/anxious driver. Richard was very supportive and thorough with his explanations/instructions. He was accommodating in moulding the lessons to cover areas I felt less confident in, but also pushed the breadth of my comfort zone for improvement. Thanks Richard! 😃